| | |
| --- | --- |
| Copenhagen, Denmark | |
On one of my business trips to Flensburg, Germany, I took the opportunity to go on a few hour drive to Copenhagen, Denmark in September 2004 and spent a couple hours walking around before having to return to Germany. The English name Copenhagen is derived from its German name, "Kopenhagen", but in Danish it's actually "København". I didn't know then when driving there so it was a little confusing seeing the highway signs for København and not Copenhagen.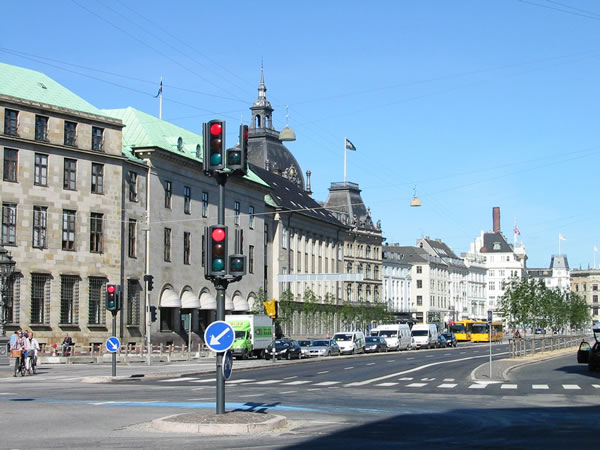 A typical street scene in Copenhagen.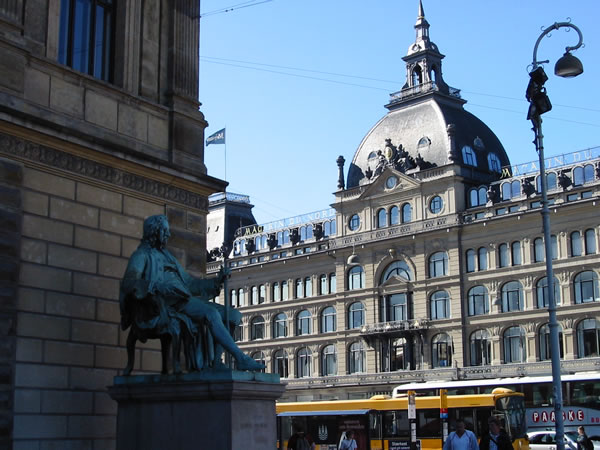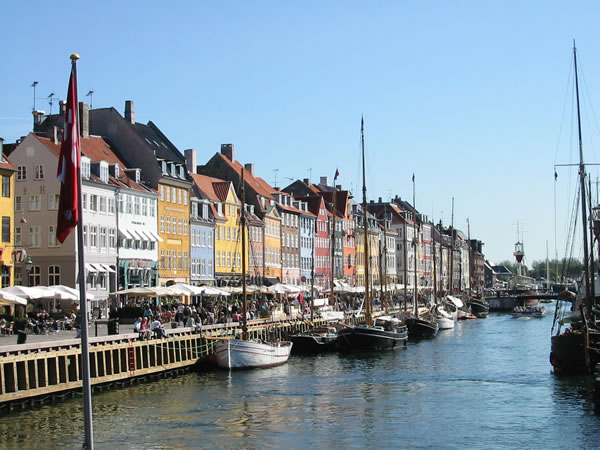 Nyhavn ("New Harbor") is a very popular place in Copenhagen, with both locals and tourists.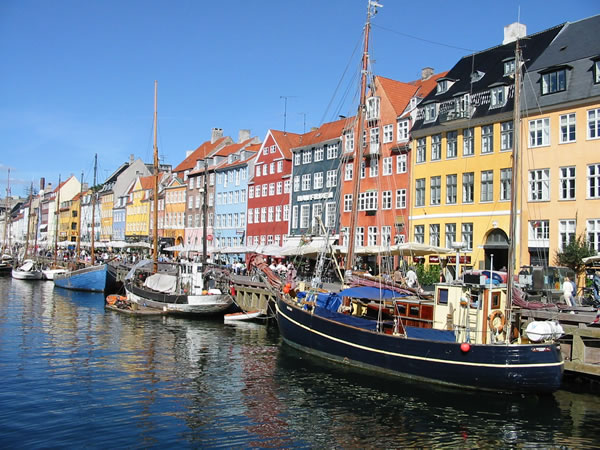 A very colorful scene in Nyhavn...lined with sidewalk bars and restaurants.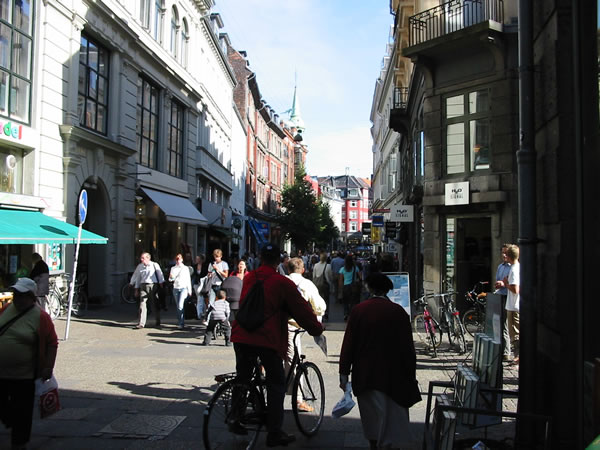 Christian IX's Palace in Amalienborg. Amelienborg is the winter home of the Danish royal family. There are actually FOUR IDENTICAL palaces on this site. They were completed in 1760. On the right is an equestrian statue of Amelienborg's founder, King Frederik V, completed in 1771.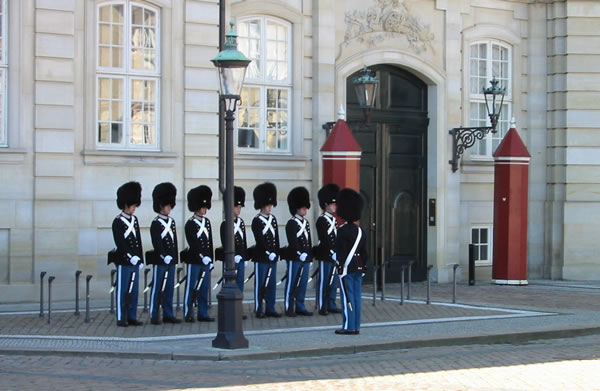 The guards at the Royal Palaces in Amalienborg.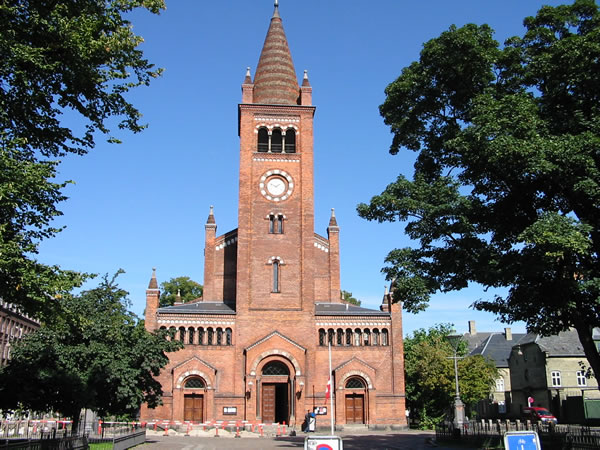 Another beautiful (and old) church.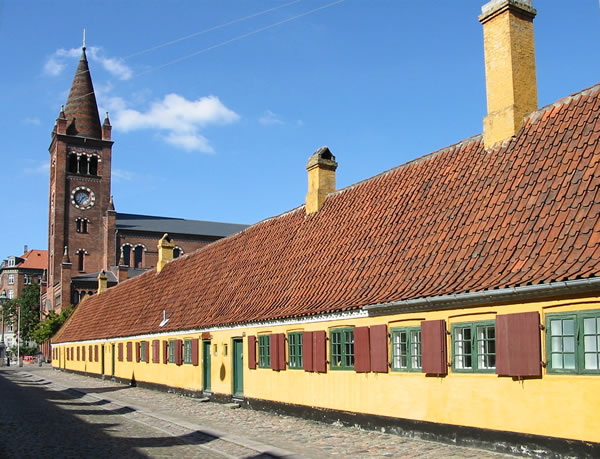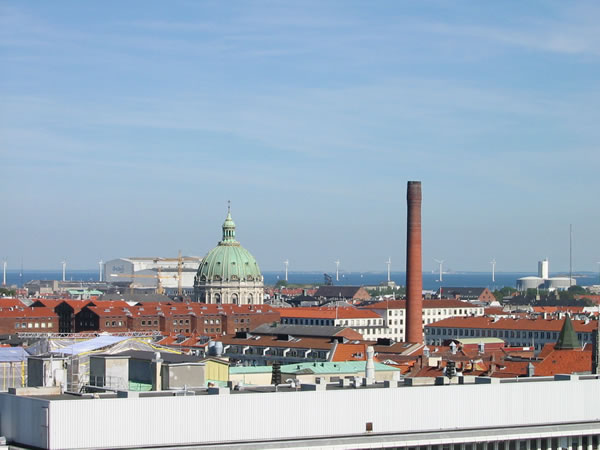 A view of the skyline from on top of the Rundetårn (see below), including "The Marble Church".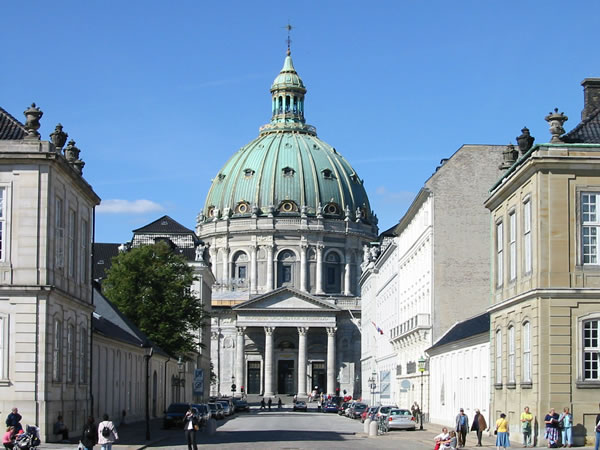 Frederik's kirke (Frederiks church), also known as The Marble Church. It has the largest church dome in all of Scandinavia (Denmark, Norway and Sweden) spanning 102 feet. Construction began in 1749 but wasn't completed for nearly 150 years, opening in 1894.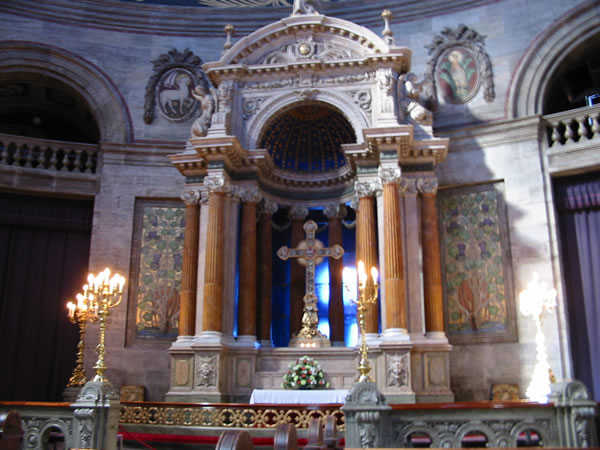 The sanctuary in The Marble Church.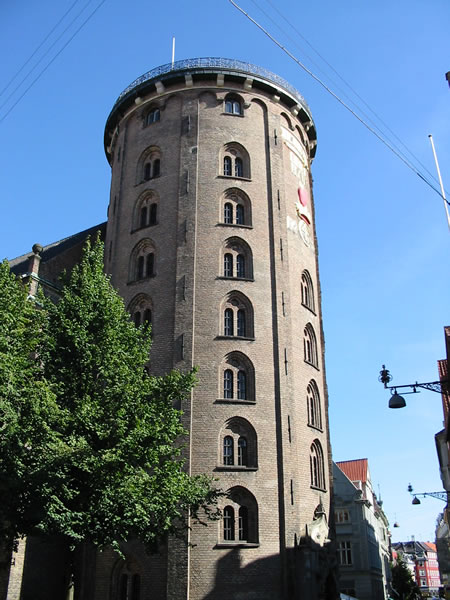 The Rundetårn ("Round Tower") completed in 1642. It is connected to Trinitatis kirke (church) and houses an astronomical observatory and previously a university library. The observatory is the oldest functioning observatory in Europe, and anyone can use it!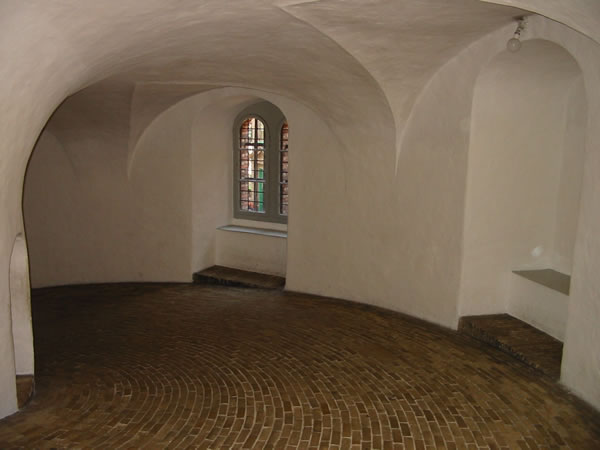 A 7.5 turn helical corridor leads to the top of the tower (no stairs!!). There may be no stairs, but this spiral is 879 feet long to get to the top of the tower, 114 feet above the street. Note: if you visit, walk up the spiral towards the center of the building, it's length is only 280 feet, but has a 33% grade instead of a 10% grade at the outside.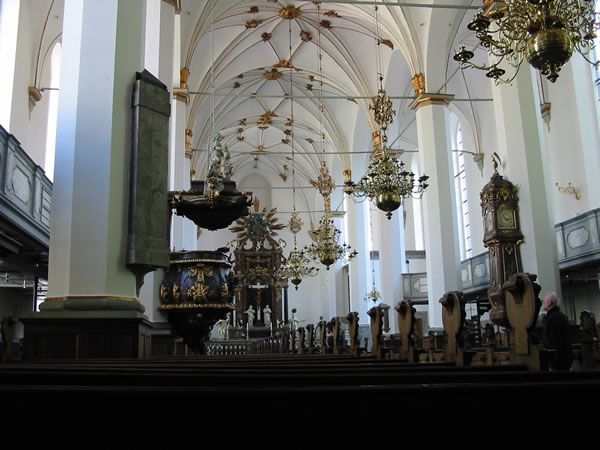 Inside Trinitatis Kirke (Church).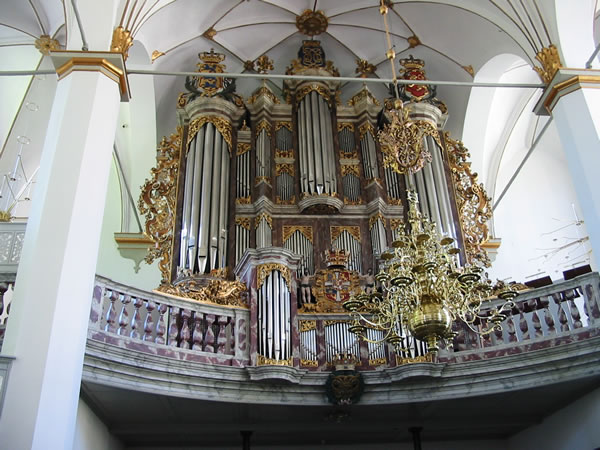 An amazing pipe organ in Trinitatis Kirke (Church).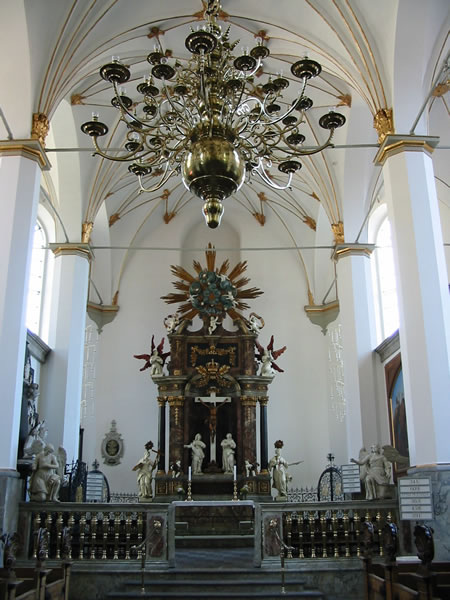 The sanctuary in Trinitatis Church.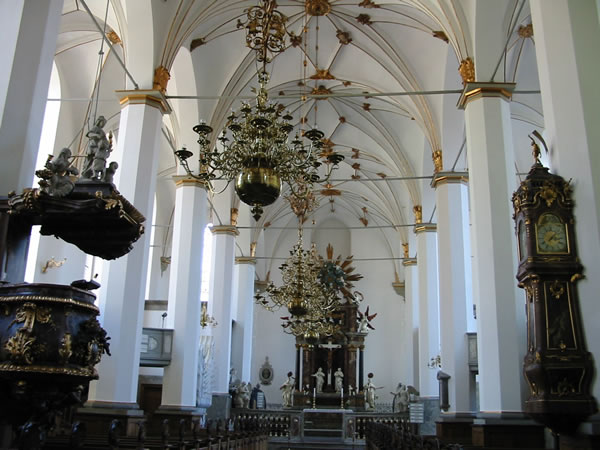 Trinitatis Kirke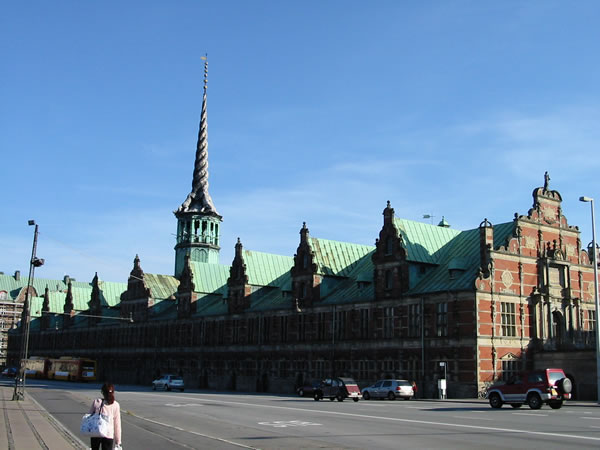 Børsen (The Stock Exchange) is a building on the island Slotsholmen in central Copenhagen built by Christian IV in 1619-1640. It housed the Danish stock market until 1974.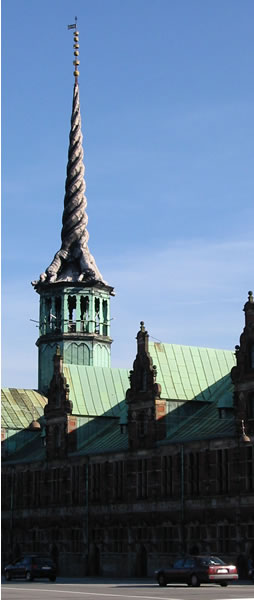 Børsen is famous among tourists for its "dragonspire", which is shaped as the tails of four dragons twined together and measures 184 feet.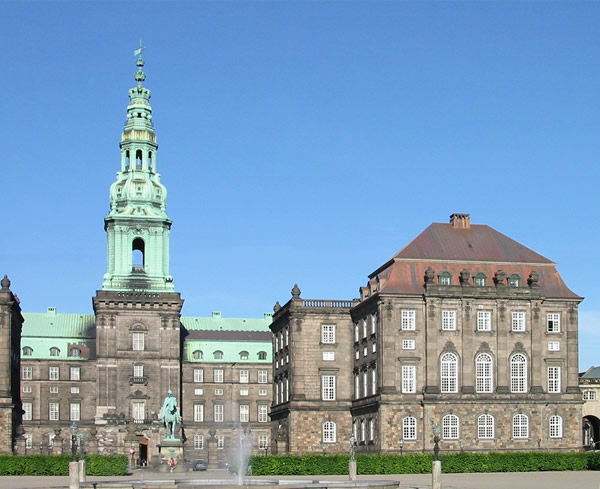 Christiansbork Palace is the home of Denmark's three supreme powers: the executive power, the legislative power, and the judicial power. It is the only building in the world which is the home of all a nation's three supreme powers.
Travel Home | Copenhagen | Curacao | Germany | Maui | Singapore | Trinidad
Curcao Diving | Thailand Diving
---
Home | Contest Scores | DX Stats | Station Description | Antennas
Fishing | Flying | Ham Radio | Harley | Mustang | Scuba | Travel