| | |
| --- | --- |
| Singapore | |
I had the pleasure of travelling to Singapore a couple times for business, the first time in April 2004 and again in January 2005. Travel time to get there was 24 hours: 13 hours from Chicago to Tokyo, a 4 hour layover, and another 7 hour flight to Singapore. On one of my trips to Singapore, I also arranged to take a short flight over to Thailand to do some scuba diving and sight seeing. See my Thailand page for pictures.
Singapore is a wonderful place if you can get past the heat and nearly 100% humidity, although it beat Wisconsin in January. The entire country is fairly small, about 10 miles wide and 23 miles long. Due to its high population and being such a center for commerce and business, I expected it to be a concrete jungle like Tokyo, Japan. I expected to see nothing but skyscraper businesses and high-rise apartments. While Singapore has that, they also have tons of green space, including right in the heart of the city as you can see in the first few photos.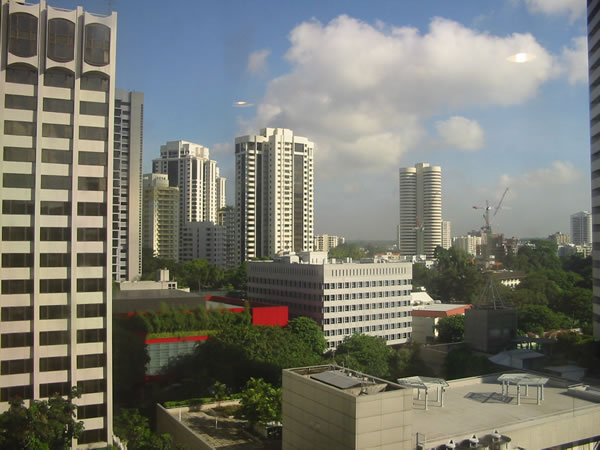 The view from my hotel room.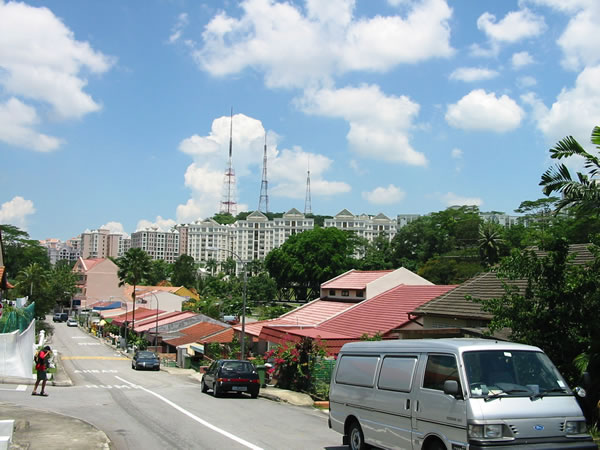 This is the view outside of my friend James' house (9V1YC) in Upper Bukit Timah.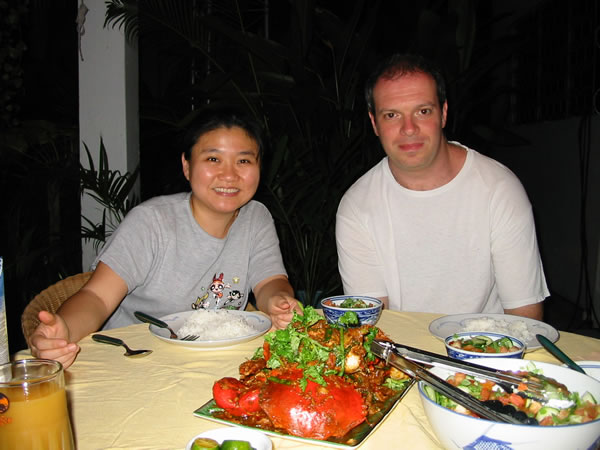 Here's James' fiancee and James (9V1YC) with the meal that Sinapore is famous for, Chilli Crab. They were wonderful hosts and cooks!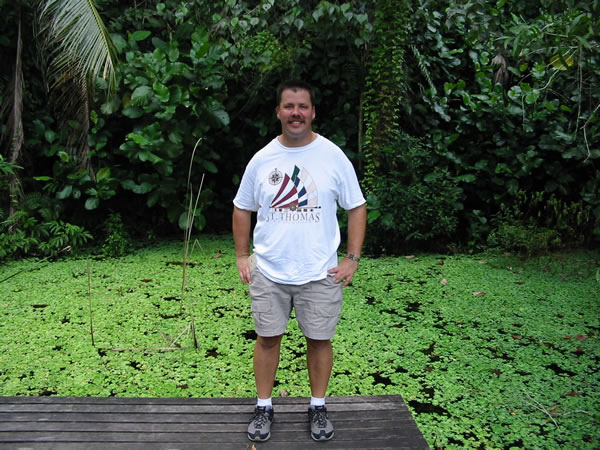 Me in the middle of the Jungle in Sinapore. Plenty of green!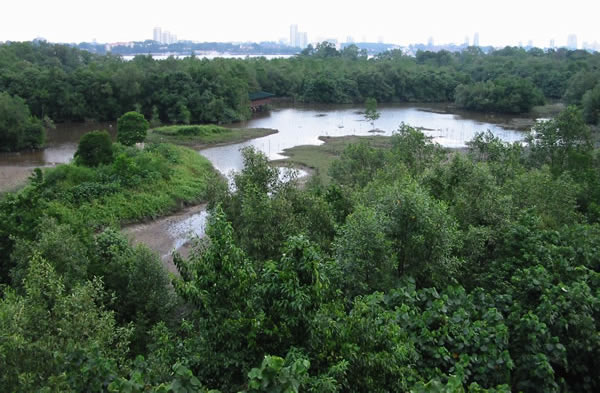 A view from a lookout tower in a park. A couple miles away at the horizon in this photo is another country: Johor, Malaysia.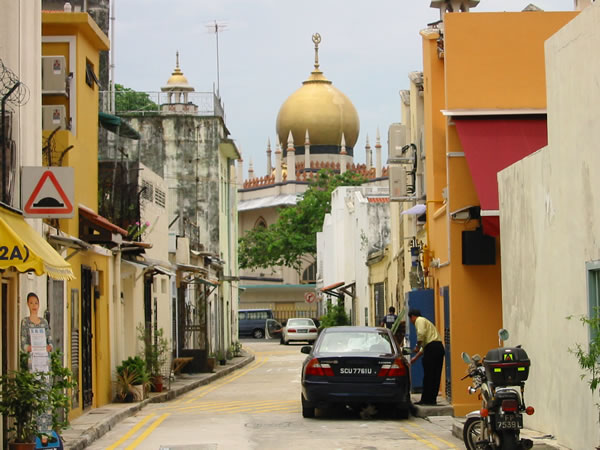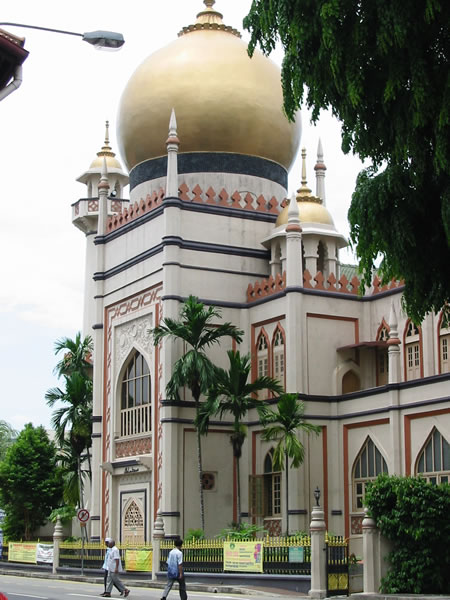 The Masjid Sultan (Sultan Mosque) was built in 1824. Islam is practiced by about 16% of Singapore's population, mostly by the Malay (Malaysians), but also some Indian, Pakistani and Arab Muslim communities.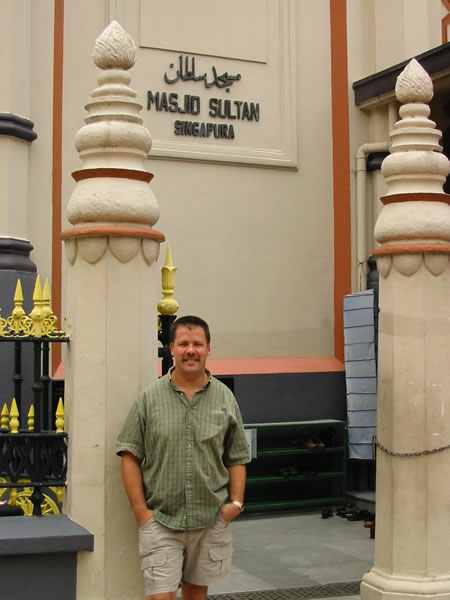 That's me at the entrance to the mosque.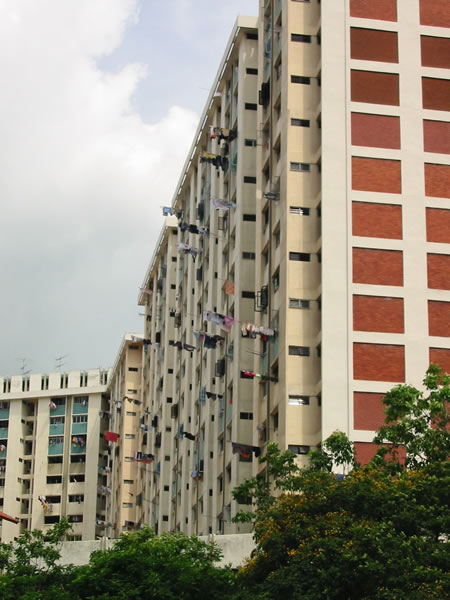 A unique way to dry your laundry, but with nearly 100% humidity it must take forever to dry!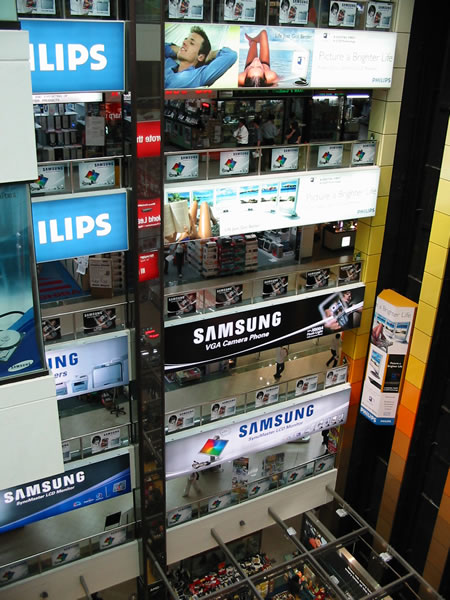 Sim Lim Square, 5 floors of nothing but electronic shops!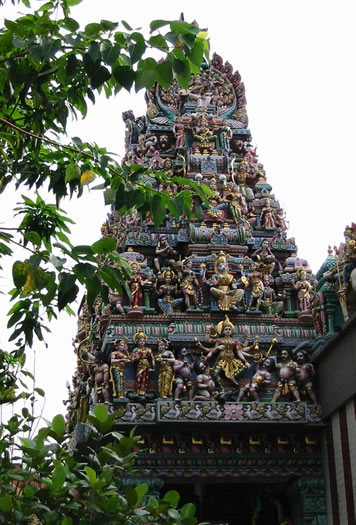 There's about an 8% Indian population in Singapore and a section of Singapore known as Little India. Here are some beautiful carvings at the entrance of a Hindu temple, the Sre Marimman Temple. It is the largest and oldest Hindu temple in Singapore, started in 1843 and completed in 1863. These carvings create a large tower, or "gopuram" over the entrance.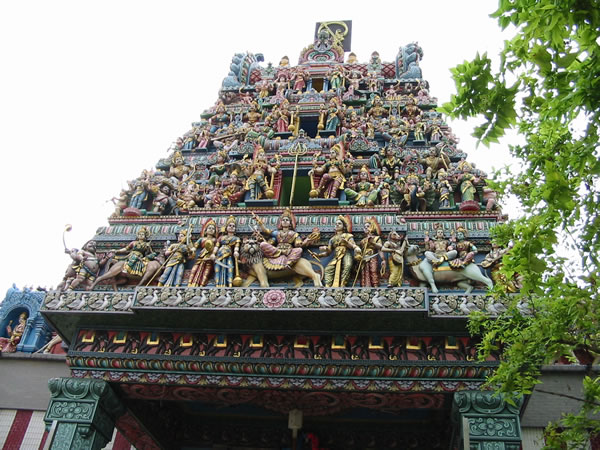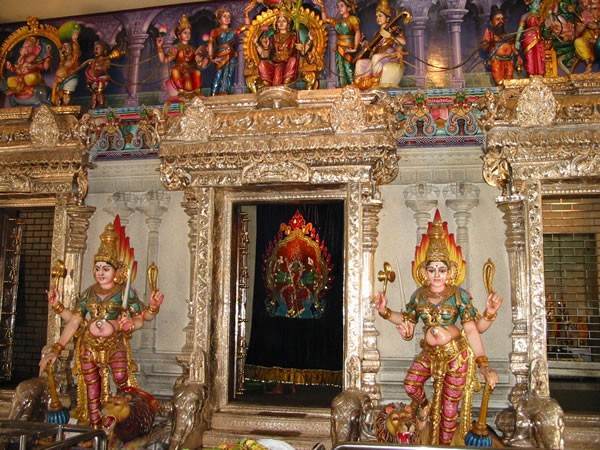 Inside the temple.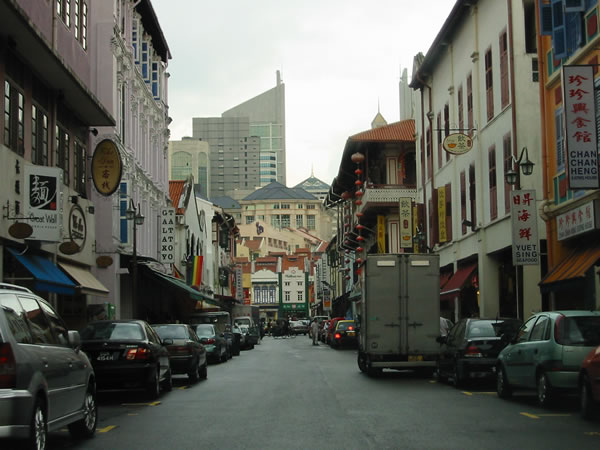 A view down one of the streets in Chinatown. The population of Singapore is 77% Chinese.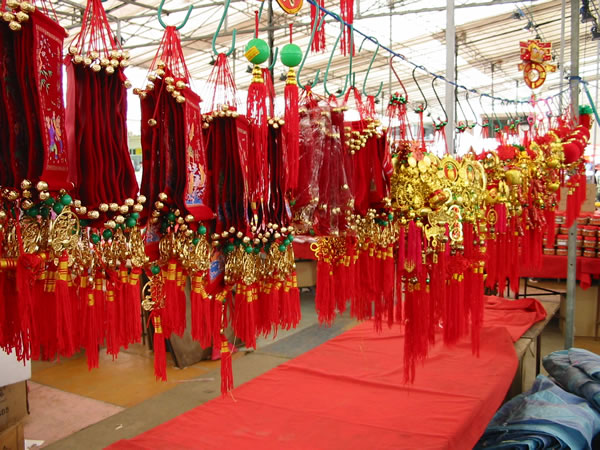 On one of my trips, everyone was getting ready for Chinese New Year, a very big celebration. As you can see in the following photos, red is a very popular color!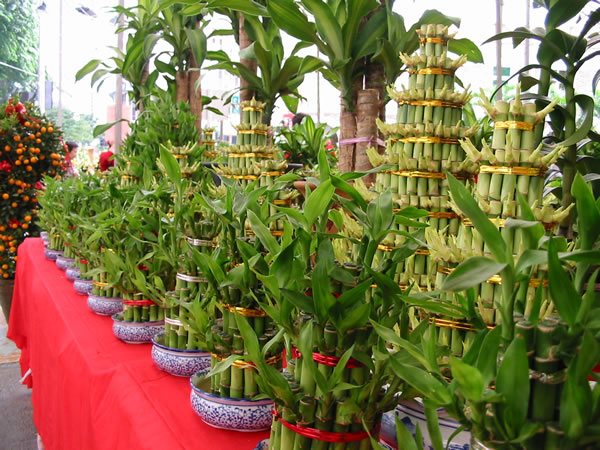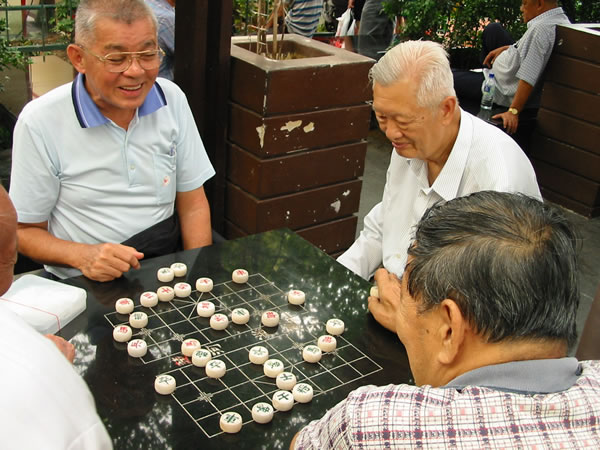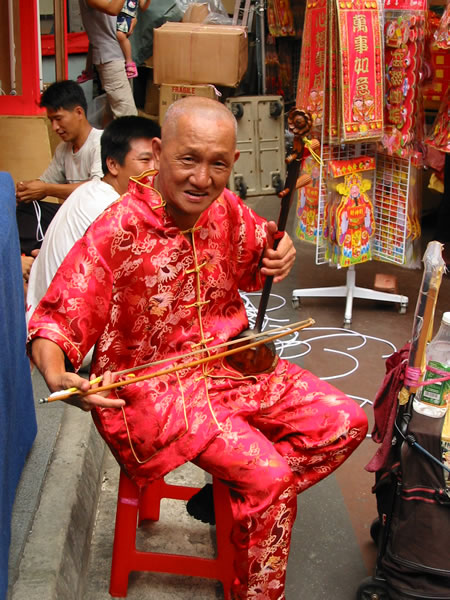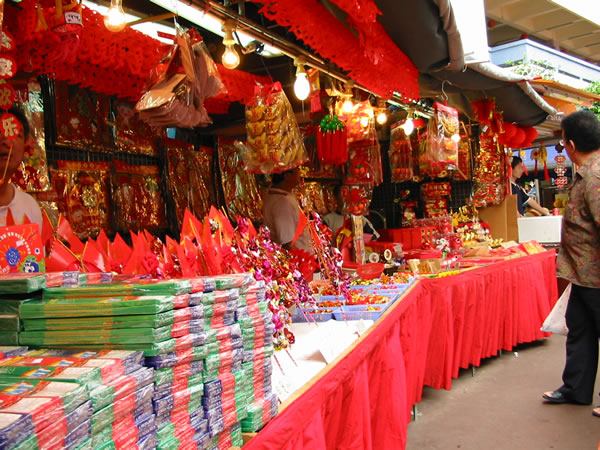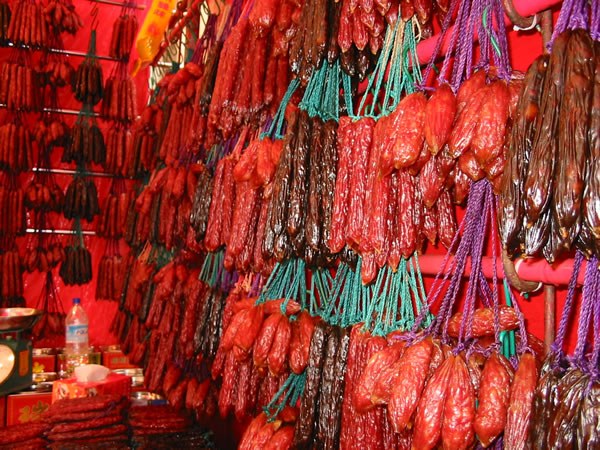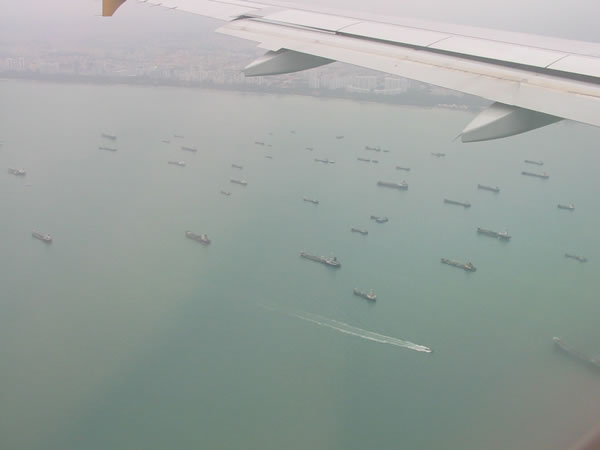 Singapore is a gigantic shipping port. Here's a TON of ships waiting their turn to enter port.
Travel Home | Copenhagen | Curacao | Germany | Maui | Singapore | Trinidad
Curcao Diving | Thailand Diving
---
Home | Contest Scores | DX Stats | Station Description | Antennas
Fishing | Flying | Ham Radio | Harley | Mustang | Scuba | Travel